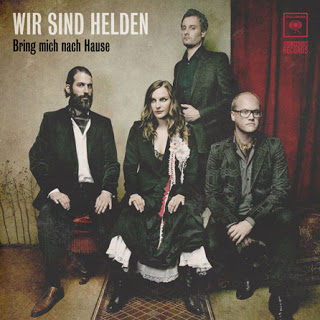 Three years have passed since Wir sind Helden's third album, 2007's SOUNDSO — an extended hiatus the bandmembers used to start families, recharge their creative batteries, and take a break from their omnipresence in the media. When Wir sind Helden finally went back to the studio to record a follow-up, they slightly changed their approach so that they wouldn't be stuck with the same kind of predictability and routine that plagued SOUNDSO: they hired a new producer, Ian Davenport, and decided to record the songs live in the studio, using more varied instrumentation for texture — banjo, accordion, percussion — but aiming for a more acoustic overall sound than before. The resulting album, BRING MICH NACH HAUSE (Bring Me Home), proves that both the break and the more relaxed approach to the production were an excellent idea: while the group's rock & roll impulse is long gone, the record feels much more alive than its predecessor, and the songs don't suffer from the sort of pressure Wir sind Helden put themselves under before. Still, the record is very much a continuation of the band's sound: there may be fewer keyboards than before and the focus of the lyrics may have moved completely into personal territory, but the difference between BRING MICH NACH HAUSE and SOUNDSO is more noticeable in feel than in sound — it's still the same band with its mainstream pop/rock style and singer Judith Holofernes' deliberately naïve voice.
There's much to like on the album: the opening "Alles" (Everything), which is very good at creating a sense of momentum for the record; the Latin-inspired "Dramatiker" (Dramatist), which offers some lighthearted playfulness; the rocker "Im Auge des Sturms" (In the Eye of the Storm), which unexpectedly turns into an extended jam; and the piano ballad "Meine Freundin War im Koma und Alles, Was Sie Mir Mitgebracht Hat, War Dieses Lausige T-Shirt" (My Friend Was in a Coma and All She Brought Me Was This Lousy T-Shirt), which, despite its tongue-in-cheek title, is an immensely touching reflection on the fragility of life. Not all the songs are as memorable — e.g. "Flucht In Ketten" (Escape in Chains) — but apart from the album's banal coda, "Nichts, Was Wir Tun Könnten" (Nothing We Could Do), there's nothing that is completely forgettable. Overall, BRING MICH NACH HAUSE isn't brimming with urgency, but it's good to hear that Wir sind Helden found a way to get part of their creative spark back.
This review was written for the All-Music Guide and first published on June 15, 2001.
——————
4 8 15 16 23 42