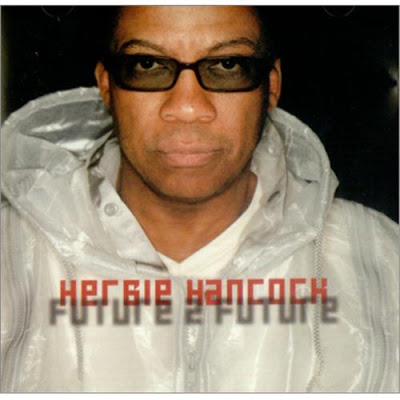 This isn't a full-fledged review of Herbie Hancock's album FUTURE 2 FUTURE – it's my initial response to the record which I wrote for the (now-defunct) Hancock mailing list.
I got Herbie's new FUTURE 2 FUTURE CD today. I had high expectations for the album, and I'm not disappointed. The disc is excellent!
Great production (by Herbie and Bill Laswell), it sounds very modern … lots of breakbeats (both live & programmed — Jack DeJohnette is especially good, as is Karsh Kale), energetic soloing by everyone (especially Wayne Shorter, Charnett Moffett, and, of course, Herbie himself, on acoustic & electric piano) … the tracks have lots of different layers, but there's also plenty of space … there are even two spoken word passages! There's turntable scratching (Rob Swift is awesome; Grandmixer DXT is on board, too), world music influences (African rhythms, Ethiopean singer GiGi) and much more … I even like Carl Craig's contribution (his Innerzone Orchestra album is an album I really had to force myself to listen to all the way through).
The album sort of combines all the styles Herbie's worked in before, and comes up with something entirely new … it doesn't even sound like FUTURE SHOCK or DIS IS DA DRUM, even though these two, mixed with THRUST, might be the closest points of reference.
One track is dedicated to Tony Williams, with a drum track played by Williams himself. The performance seems to be from the Arcana disc (ARC OF THE TESTIMONY), which was Tony's last project (also with Laswell) … or at least it sounds like it's been recorded during these sessions.
The Japanese version of the disc includes a bonus track, a remix of "The Essence" (feat. Chaka Khan) by DJ Krush. A wonderful track. Apparently, there's going to be a CD single featuring "The Essence" and the remix, though, so you probably won't have to get the Japanese version.
—————–
4 8 15 16 23 42