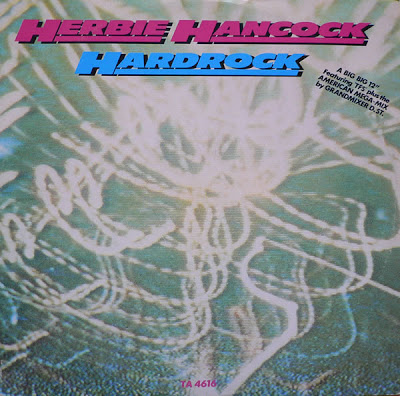 Before Hancock's 1984 album SOUND-SYSTEM was released, this advance single (referring to the album as being called HARDROCK) allowed a first glance at the FUTURE SHOCK follow-up. With "Hardrock", Laswell and Hancock took their "Rockit" approach into, well, harder regions. The funk-meets-beats-meets-turntable-scratching foundation of the original song (and album) is spiced up with rock guitar riffs (by Nicky Skopelitis and Henry Kaiser), more sound effects, more rhythm changes, and more of Laswell's cut-ups. Though the song is called "Long Version," it's actually the album version. The B-side of the single features Grandmixer D.St.'s "American Mega-Mix," which is a remix featuring all songs from FUTURE SHOCK (except "Earth Beat") plus the famous bassline from "Chameleon" (taken from the 1984 remix), and several other records as well (such as Shango's "Shango Funk Theology"). It's an interesting listen for Hancock fans and shows D.St.'s turntablist skills, but it isn't necessarily a brilliant track. The third track is "TFS" (taken from the FUTURE SHOCK album), a groovy mixture of robotic drums, futuristic synths and funky keyboards.

There's no real need to get this 12″ for the songs "Hardrock" and "TFS," since they're exactly the same as the album version, but fans of Hancock and/or DJ remixes may want to hunt this down for the mega mix — though it might be much easier to find the CD compilation THE BEST OF HERBIE HANCOCK, VOL. 2, which includes this track.


This review was written for the All-Music Guide on September 4, 1999.
—————–
4 8 15 16 23 42