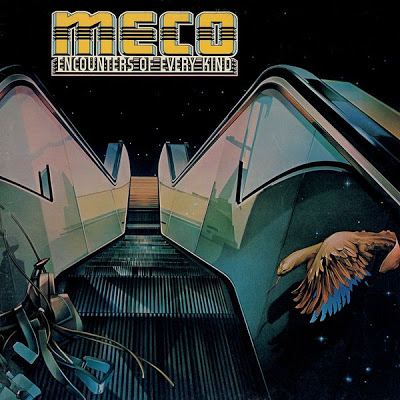 Whether you'll like ENCOUNTERS OF EVERY KIND, the follow-up to Meco's successful STAR WARS AND OTHER GALACTIC FUNK, depends on whether you like both lounge and disco. Or, more precisely, whether you'd like the thought of a discofied James Last orchestra with a science fiction theme and a bit of silliness thrown in for good measure. The orchestra, by the way, is made up of top session musicians (like Will Lee, Alan Shulman and Tom Malone) and even includes Randy Brecker.
The theme of this album is the "Meco Time Machine," which leads Meco and the listener through several epochs of time and space. "In the Beginning," we're thrown right into a prehistoric (as a matter of fact, 1, 348, 264 B.C.) setting, with furious pterodactyls sweeping across the sky. Next stop is "Roman Nights" (45 B.C.), at an orgy in the Senate Bath House with fanfares (the liner notes meticulously describe the whole travel). Then we're led to 1690 A.D., meeting "Lady Marion" in Sherwood Forest; this one sounds more like a classic Star Trek episode, but chirping birds are all around us. We're "Icebound" in the 1880 A.D. Antarctic next, with chillingly cold wind and creepy strings, but we'll quickly reach the next era on our agenda, "Hot in the Saddle," in 1881, invoking visions of "Bonanza," complete with gunshots, Indians, arrows and the cavalry!
Side two of the record presents the two most hilarious tracks; one is a rendition of "Crazy Rhythm" — loungey swing in 1926 Chicago, not omitting the sudden raid by a couple of machine-gun-toting gangsters. In 1952's Johnsonburg, we're exposed to an unbelievable version of "Topsy" (yes, that Topsy), with "Smurfy" vocals by an alien family. Back to the present; we're watching the city from the top of the Millennium Building while listening to "Meco's Theme" — might be a forgotten soundtrack to an equally forgotten '70s cop TV series. Lastly, we're heading right for the future, climbing atop Devil's Tower, Wyoming, to experience "Close Encounters" (of the Third Kind, of course); supported by a rendition of John Williams' famous theme.
It's hard to be halfway about this album; you'll either love it or hate it (who said that this only has to be valid for avant-garde records?), and I love it. A product of its time, and a rather silly one too, but actually very clever and inventive at the same time.


This review was written for the All-Music Guide on January 23, 1999.
——————
4 8 15 16 23 42