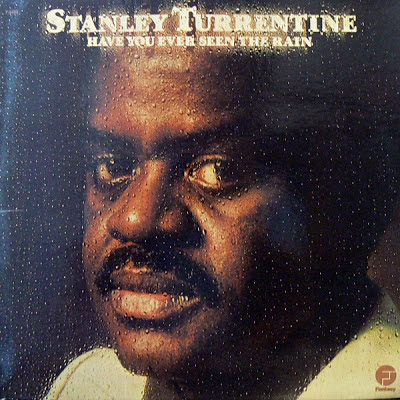 Have You Ever Seen The Pain of many a jazz fan who's listening to certain '70s albums of certain jazz musicians? Stanley Turrentine recorded various albums for CTI in the early 1970s which perfectly blended the commercial with the artistic (thanks to producer Creed Taylor), but when Stanley left CTI, the artistic seemed to mostly stay behind.
This 1975 album for Fantasy features (according to the credits) "a full string section" — with emphasis on the word "full" — which means that the songs are drowning in saccharine string arrangements. These songs are all ballads, including two Earth, Wind & Fire songs ("Reasons" and "That's the Way of the World"), Marlena Shaw's "You" and the title track by Creedence Clearwater Revival. What's probably most disappointing about this record is the waste of an impressive lineup: the rhythm section consists of Ron Carter and Jack DeJohnette, who are largely bereft of any musical personality here (can you imagine DeJohnette playing a set of commercial ballads?), although Carter stretches out a bit on "T's Dream." Then there's Patrice Rushen on keyboards and various session musicians, like Harvey Mason, Scott Edwards and David T. Walker (who manages to throw in one or two trademark licks). Freddie Hubbard, on trumpet and flugelhorn, plays a lot of beautiful but largely uninteresting solos and somehow doesn't really register. Stanley himself is soulful as usual. There are two tracks which are a bit faster than the rest — "T's Dream" and "Tommy's Tune" — which doesn't prevent them from still being basically ballads. The latter was written and arranged by Stanley's brother Tommy and is easily the best track (and the shortest one, too), providing a little flashback to the past and omitting the strings. Still, the record's kitsch level is extremely high, and just when you think it can't get any cheesier, the album always goes that extra mile.
But on a positive note, for some people at least, this might turn out to be one of the most beautiful and romantic albums of all time, if they're deeply in love and listening to this together with or without their object of desire. Perhaps this is exactly the kind of album you'd like to put on when you're with your girlfriend. Turrentine and Hubbard's playing is undeniably beautiful and romantic — and there's something about this album which makes it a bit hard to dislike, perhaps because it'd be all too easy to dismiss it. It's probably also due to the fact that Stanley is always very sincere about what he does; he just wants to play ballads. With cynicism put aside, it's not easy to decide whether this record is a hideous cash-in, cheesy beyond belief, or if it's an unfiltered taste of Stanley's most romantic side. Perhaps it's both.


This review was written for the All-Music Guide on January 30, 1999.
——————
4 8 15 16 23 42